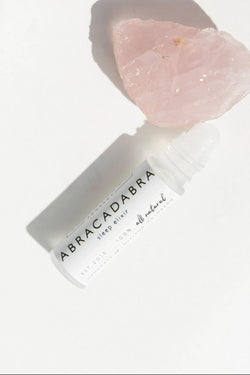 Apothecary Co
Abracadabra Sleep Elixir
Details
The "Abracadabra Sleep Elixir" Oil from Apothecary Co. is a deeply relaxing proprietary blend of naturally calming essential oils infused with the healing power of amethyst crystals. This natural sedative may help to decrease the severity of anxiety, insomnia, and support restful sleep. Apply to the bottoms of the feet and disperse the oil evenly before bedtime.

Made in the USA
100% Natural
Lavender and Cedarwood scent
Used for relaxation
All beauty is final sale.
Contents
Fractionated coconut oil (infused with amethyst, sweet almond oil, essential oil blend (organic vetiver, organic lavendar, cedarwood, ho wood leaf, organic ylang-ylang, marjoram, roman chamomile, vanilla bean Hawaiian sandalwood), vitamin E

Net Weight .33 fl. oz.