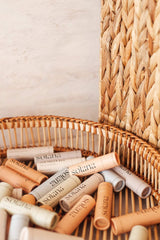 Solana
Eco Friendly Lip Balm
Details
This Eco Friendly Lip Balm by Solana is vegan, cruelty free, and as clean as can be. Made of 100% organic ingredients and available in 5 incredible flavors, plus unflavored!
Why we love Solana: We are woman-owned and radically clean. We make and sell non-toxic home and body products in sustainable packaging.
Made in the USA
100% Organic
Vegan + cruelty free
0.3 oz eco-friendly paper tube

All beauty is final sale.
Contents
Ingredients & EWG scores: Carnauba wax - EWG 1 Castor oil - EWG 2 Sunflower seed oil - EWG 1 Mango seed butter - EWG 1 Coconut oil - EWG 1
Net Weight .33 fl. oz.