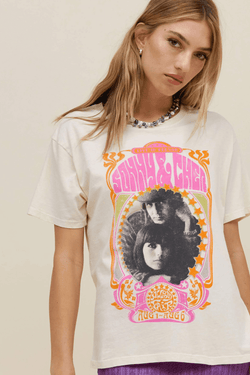 Sonny + Cher Melody Boyfriend Tee
Details
The Sonny + Cher Melody Fair Boyfriend Tee by Daydreamer features the iconic look of Sonny and Cher in a groovy frame with the Melody Fair logo. This slouchy graphic tee is made from 100% cotton with a worn-in feel, so it'll feel like your favorite vintage tee from day one!
Care
Hand wash with cold water
Lay flat to dry
Do not bleach
Contents
Size and Fit
Based on a size Small
Chest 19"
Length: 25"